About us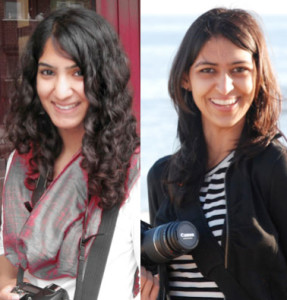 There's not much more we're going to say except that we're a tag-team of two, enthused and passionate about our work.
We were lucky to have the opportunity to do our Masters in Photography in Cornwall, England. We specialize in a pretty-cool field which we refer to as 'mood & ambient' photography.
Delhi has been our work abode for five and a half years. We've worked with brands- big & small, wedding planners, magazines, artists and ofcourse, our neighbours : )
Photographs are candid moments and whether they are portraits, the togetherness you feel with your better half or family or the biggest day of your life,
we'll capture it for you in its spontaneous truth, either through a montage, a photo-book or in gold framework.
We aim, in our work, to reach a degree of subtle sophistication.
We'll talk to you in-depth about what you want the end-result to look like and are happy to carry out post-production that gives your photos that unique, everlasting touch.
Call or write to us if you want to freeze your 'significant life-moment' into something beautiful.
Some organizations/people we've worked with: 
Allen Solly, Walmart, Barista Lavazza, FDCI and Wills Fashion week, The Man Magazine, Done by None, Bharti Easy Day, 10 Minutes With, Tate St. Ives, Sunday Guardian, DPS International edge, Shiv Nadar School, Street Life, MLSS Jewellers, Gateway Magazine, Lifestyle Magazine, Micromax, Radio City- RJ Mahiya, RJ Simran, Aditi Chengappa- Actor, Chetan Sharma- Anchor, Gaurav Sareen- Leadership trainer, Select Magazine, Space Design, ANS Designs, DP Singh & Associates, Rick's Bar (Taj group of Hotels), The Rolling Joint, The Frontier (Ashok Hotel), Indian Express Group, Rupa Publications, Academic Foundation, Delhi- India in One city (coffee table book), Times of India, Aruna Mohanty (dancer), Sharmila Biswas (dancer), India Today online, Nishika Pawa Design Studio, Eventalaya, DU Beat, Viewspaper, Lady Shri Ram College for Women, 4 Steps- NGO, EmployAbility- NGO, Umang Theatre Group, The Tasting Home
Where our work has been featured:
BBC, BBC Television, WeddingSutra, CNN-Ibnlive, Breviloquent, Mail Today, Guilty bytes, Peaches and Blush, Wedmegood, Exclusively, Khagta, Say shaadi, The Wedding Company, WMG Blog, PopXo, PopXo Wedding
What our clients have to say: